Delivering high-end technology cost effective solutions in line with business objectives
End to End Product Engineering for Education and Learning – from Vision to Market
We bring decades of our EdTech product development experience to walk with you in envisioning, building and launching your next product in education, training and learning
We engage with your business leaders right from the product inception stage, to create an effective technology driven solution for your customers
Build your product for scale – with sound engineering and architecture best practices
Define and launch your MVP (Minimum Viable Product), to gather market inputs and user feedback. Release, Rinse, Repeat.
We work as an extended arm to your business, product management and engineering, to deliver your dream product
Custom Solutions
Bespoke solutions on a broad range of technologies and stacks, including Enterprise Java, Microsoft.NET, LAMP, MEAN and Python
Create your technology solutions from scratch, or by customizing and integrating platforms like Moodle or Canvas
Interweave content systems like DNN, Drupal, Joomla, Magento with Learning Pedagogy, and technology to create the most effective solution for your business
Excelsoft can be a scalable, agile and efficient extension to your technology or product teams
We help you devise mobile-first cloud-first solutions for maximum impact and reach of your business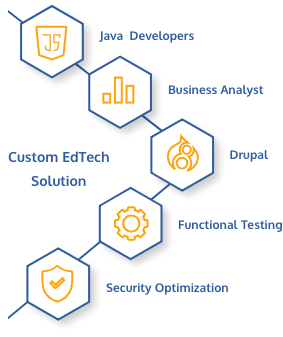 Cloud - Fundamental to Digital Transformation strategy
Excelsoft's cloud certified IT team has helped over 80 global customers to successfully embrace cloud services as an essential element of digital transformation
Our expertise spans across Azure, AWS, and Google Cloud in all hosting models be it private, public or hybrid, and cloud services like Infrastructure as a Service (IaaS), Platform as a Service (PaaS), Business Continuity – Backup and Disaster Recovery Cloud Services (BCaaS), etc.
Avail Excelsoft's consultancy services to:
Assess: understand your business requirements and propose scalable, secure, reliable, and cost effective cloud architecture
Analyze and Design: come up with a detailed architecture design and deployment plan
Migrate: assist in successful migration of applications and data into cloud environment, while ensuring business continuity
Re-architect: transform an existing application to be cloud native
Operate and Optimize: manage the cloud infrastructure, set-up processes, metrics, and alert-fabric to monitor and optimize all the key aspects of cloud health like cost, security, scalability, and performance.
Our cloud experts operate under DevOps framework involving development, quality assurance, security, and performance engineering teams.
Data Analytics - Power your Education/Learning Business with Data Driven Decision Making and Insights
Experience building large scale data analytics applications involving integrations with multiple platforms and PetaBytes of educational data on Relational and NoSQL databases
Team of over 30 engineers, architects, and data scientists specializing in Data Analytics for the education and learning domain
Cognowise – an Excelsoft's readymade technology components and learning analytics framework to get your business up and running in no time
Broad technology skillset in MongoDB, Redshift, Kinesis, Kafka, Hadoop, Storm, Spark, TensorFlow, Keras, D3, etc.
Standards driven integrations using Experience API (xAPI), Predictive Analytics Reporting framework and Caliper
Consulting
With domain knowledge and technology expertise, we provide:
Solutions conceptualization
Product engineering and development
Integration services
Open source platforms
Cloud services
EdTech standards: Learning Tools Interoperability (LTI), Question and Test Interoperability (QTI), Sharable Content Object Reference Model (SCORM), ePub, Aviation Industry CBT (Computer-Based Training) Committee (AICC), etc.
Accessibility Testing Services
Excelsoft brings significant capabilities in accessibility testing services that combines both people and technology strengths. AccessTest, a platform developed in-house, makes it extremely simple and cost-effective to perform automated accessibility testing of both platforms and content.
A well-staffed and equipped specialized accessibility testing Center of Excellence (CoE) with expertise in both manual and automated testing
Differently abled testers provide the ultimate proof of efficacy
Manual and automated testing guided by Web Content Accessibility Guidelines (WCAG), 508 and Americans with Disabilities Act (ADA) standards
Extensive experience using assistive technology tools like JAWS, NVDA, Windows Eyes and VoiceOver
AccessTest – a next generation accessibility testing tool that combines best of open source, proprietary and home grown engines
AccessTest – makes it a breeze to automate accessibility testing
AccessTest can be used by QA, and can also integrate into your Continuous Integration (CI) for continuous accessibility scans during development
AccessTest is being used by some of the world's leading publishers today
Looking for cutting-edge and cost effective technology solutions?
Numbers that help you conclude