Saras™ K-12 LMS
360 degree learning experience through periodic lesson ideas,
activities, assessments, and analytics.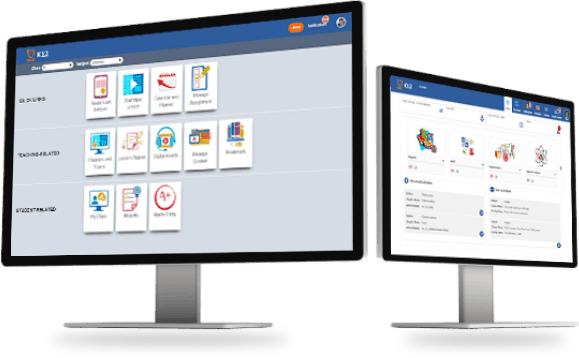 Learning Beyond Textbooks
Promote sustained engagement between students, teachers and parents through our robust technology platform Saras™ K-12 LMS
A comprehensive solution to:
Automate teaching and learning processes
Enable teachers for innovative teaching
Orient every learner towards success
Standards We Comply!!
Question & Test Interoperability (QTI)
Learning Tools Interoperability (LTI)
Common Cartridge (CC)
Sharable Content Object Reference Model (SCORM)
Experience API (xAPI)
Web Content Accessibility Guidelines (WCAG) /508
Make Learning Fun!!
Make learning through textbooks fun through our end-to-end digital publishing platform OpenPage, which helps create, enrich, publish, distribute and deliver interactive e-books across platforms and devices for a highly personalized and analytics driven learning experience.
Just-in-time Assessments
Equip teachers with modern tools and techniques through our continuous assessment engine to administer curricular, co-curricular and cross-curricular assessments at various levels to ensure complete development of learners.
Test Planet
Enables student to prepare for competitive exams through practice modules  and full syllabus test to identify their areas of improvement before actual tests
Key insights and recommendations offered by inbuilt reporting
Know more about our Test preparation product
Strong Foundation for Preschoolers
Enhance your child's skills in communication, numeracy, logical thinking and social interactions through our early childhood program, which offers a well-researched curriculum inculcated through rhymes and games via a digital learning platform.
Our wide range of solutions span both curricular and co-curricular areas, and are carefully researched to help develop cognitive, affective and psychomotor skills. Request for a personalized demo.