Screen, Evaluate, and Rank Job Applications
Excelsoft's SmartEval tool enables organizations to evaluate and rank job applications based on simple to complex scoring rules. A flexible, easy to navigate and extensible business rule-based system supports this application screening and ranking system. The system is highly configurable to support increased validity of candidate selection and ranking.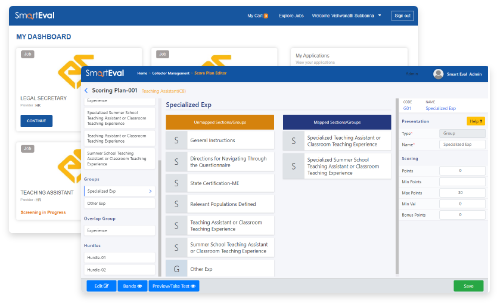 Powerful and Intuitive
A comprehensive form construction and scoring plan builder
Increase Efficiency
Templates for component re-use and quick set-up; Single questionnaire-multiple scoring plans.
Increase Validity
Support for layered scoring criteria definition for each question, section and group.
Data Driven
Support for detailed data capture, analytical reports, and export capabilities.
Smart Integration
Support for third-party system integration
Anywhere Anytime
Adaptive UI and UX for multi-device delivery
Branding Support
Support for fully white labelled application with centralized digital repository.
System Overview
Collector Management
Build Job Analysis Questionnaires, Skills Inventories, Surveys, and Training and Experience Exams.
Reuse old collectors, import from an Microsoft Excel template, start from a template, or build from scratch using simple forms.
Organize collector into sections (and sub-sections) for organized and contextual data collection processes ensuring ease of navigation and enhanced scoring capabilities.
Fields that allow for multiple data elements and multiple entries (e.g. certifications, job experiences).
Preview capability along with score summary and score log.
Field level property configuration to control and notify the candidates on wrong/mandatory data entries. The supported property configurations include: required if, data dependency, branching questions, validation routines, and more…
Scoring plans
Create simple to complex scoring plans as per business needs.
Multiple scoring plans for a single collector.
Support for questions that are not scored.
Section level scoring including minimum points, maximum points, bonus points, and more.
Question or section groups to allow for point allocation within a section, between sections, and between multiple groups.
Allows scoring based on data validation.
Formulae support to define custom validation functions which include all common operations (Microsoft Excel type functionality).
Exam Administration
Highly configurable exam administration module (turn features on/off as per requirements).
Allow applicants to save partially completed exams to return later (automatic saving between sections).
Enforce field level validations – data fields, email addresses.
Response summary for exam-takers for review before final submission and provision to download a response summary (pdf format).
Support for multiple submissions based on the configured policy.
Support to delegate test delivery to a different organization.
Establish defined dates or date ranges for the exam (including Exam without end dates for continuous recruitment).
SmartEval tool allows Agency/HR administrators to construct a questionnaire/exam with comprehensive scoring criteria for auto evaluation and ranking.
Request a personalized demo.